Introducing the Society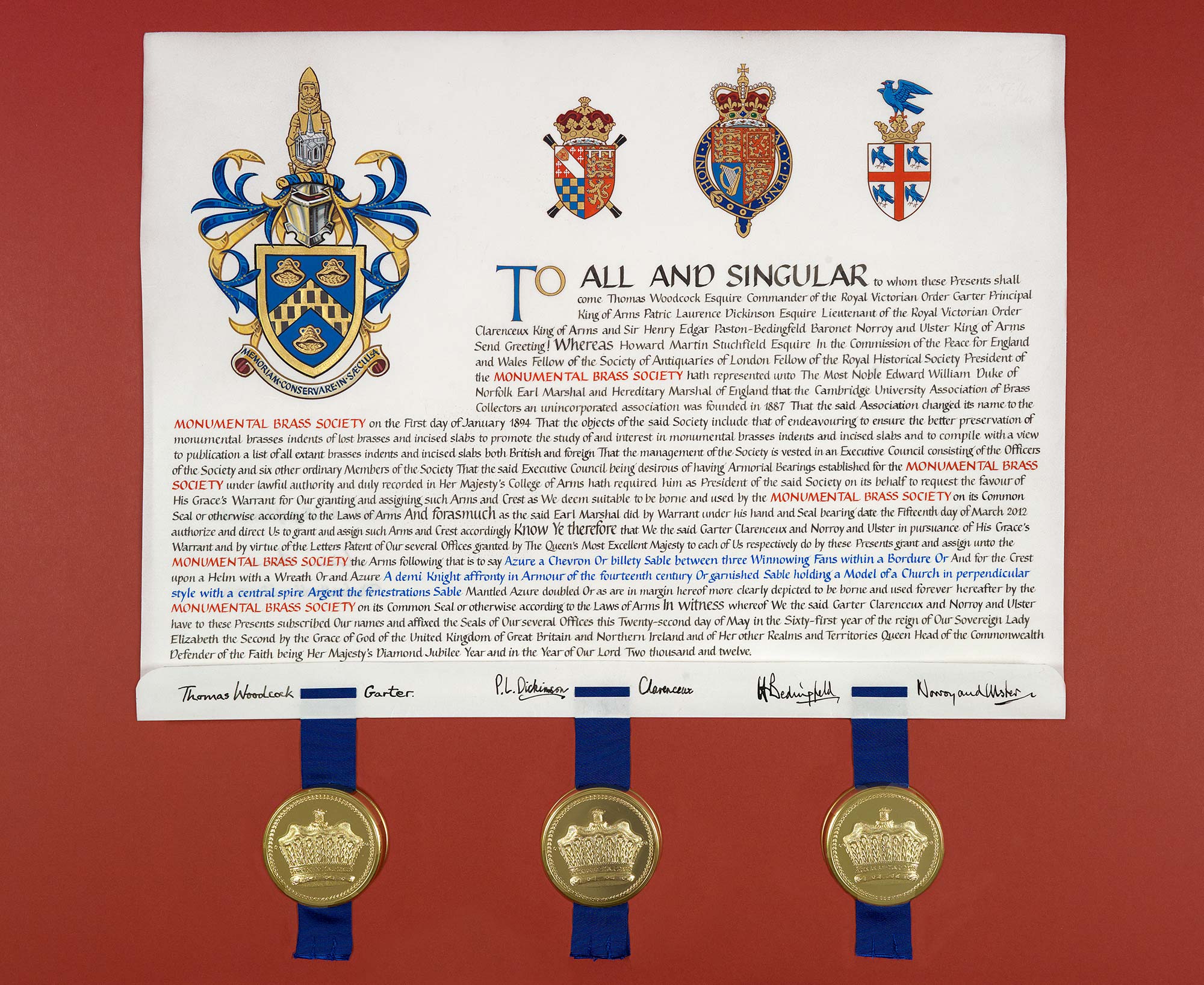 The Society was founded in 1887 by a group of Cambridge undergraduates keen to preserve and record monumental brasses. Initially it was known as the Cambridge University Association of Brass Collectors. Later it was renamed the Monumental Brass Society.
Early research into brasses focussed chiefly on English brasses of the medieval and early modern periods. Today, however, the field is much wider. Chronologically it extends to brasses of the nineteenth and twentieth centuries, and geographically to those of Continental Europe and beyond. Incised slabs are also the subject of growing interest. Areas of current research include the artistic context of brasses, workshop organisation and the self-image of the commemorated.
Membership will particularly benefit those with an interest in genealogy, ecclesiology and the study of costume, armour and heraldry, as well as those interested in church monuments.
More about the history of the M.B.S. can be found in:
Richard Busby, The Monumental Brass Society: a Short History 1887-1987
(Monumental Brass Society, 1987).
Activities of the Society
The Society provides advice and assistance to churches on the care and preservation of their brasses and incised slabs. Grants are available to assist funding the conservation of brasses.
The Society continues to influence brass-rubbing activities by advising clergy and Parochial Church Councils. The rubbing of certain original brasses is discouraged and the use of facsimiles recommended instead.
Officers
President:
K.A. Wilson-Lee, B.A.(Hons.), M.St.(Oxon.), Ph.D., F.S.A.
Vice-Presidents:
Prof. N.E. Saul, M.A., D.Phil., F.S.A., F.R.Hist.S.
H.M. Stuchfield, M.B.E., J.P., D.L., F.S.A., F.R.Hist.S
N.J. Rogers, M.A., M.Litt., F.S.A.
Ven. D.G. Meara, M.A., F.S.A.
S.G.H. Freeth, B.A., Dip.Arch.Admin., F.S.A.
Hon. Secretary:
P. Williams, B.A.(Hons.)
Hon. Treasurer:
R.C. Kinsey, M.A., Ph.D.
Hon. Editor:
Lucia Diaz Pascual, B.A.(Hons.), J.D., M.A., Ph.D.